Becoming an Online Web Guru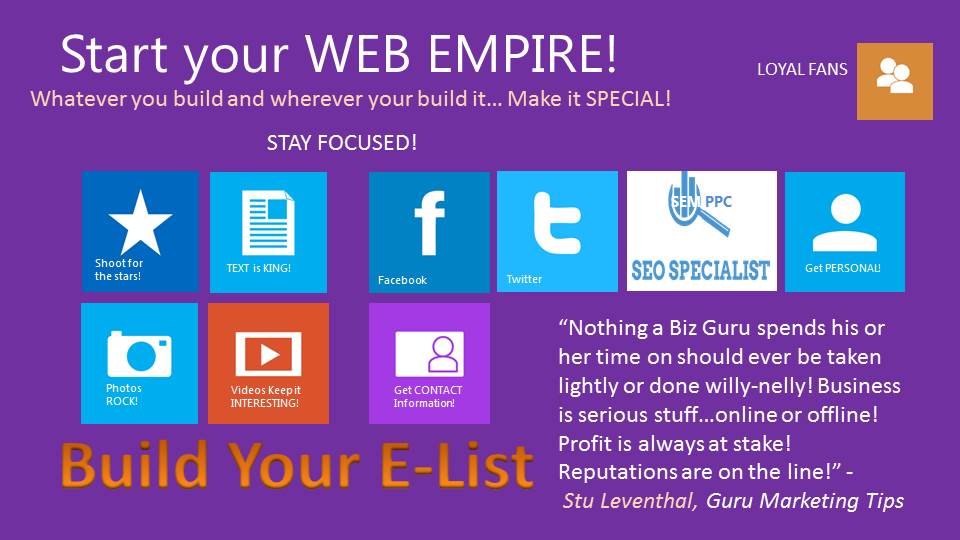 Cyberspace Landlord
By Stu Leventhal
There are a lot of ways to make web property pay its own way; you can charge people to advertise or write reviews for other companies' products or sell products and services like an online mall store.
The key is obviously having a decent place online that people like to visit because then your options for monetizing are wide open.
People visit then return visit to places in the vast web over and over again only when those places publish things that they cannot find anywhere else! Thus the number one advice for publishing success online is to make your
web real estate
unique, not like any other place online or offline!
The more unique web property you manage the more audiences you can reach and then the more loyalty you can win and thus ultimately the more money you can make. The problem is that the more cyber hangouts you construct;
blogs
, websites,
social media
pages and posts, the more work you have to do to maintain them all in working functional order.
Neglected web realty does you no good and in fact will hurt your brand image, company persona and personal reputation in your field.
We all want to own and control lots of fun places online. But volume is not always the answer especially for businesses and people who are just getting started online.
Trying to do too much too fast is where most people go wrong when they try to market digitally on the net. There is always going to be so much going on and so much more fascinating stuff we all wish we could learn more about and play around with. Even the pros and veterans find themselves getting in over their heads and then the need to cut back arises in order to keep things in focus.
You cannot learn and master everything at once! SPECIALIZE!
Playing around with the newest fad can be dangerous and hurtful to all your previous endeavors. Spreading yourself too thin weakens your work because your concentration is diluted.
When someone sees your poor efforts that is what they remember. Your competitors are also waiting for the chance to expose your bad publishing online. When you become a threat the competition will find your junk, yes still floating around in cyberspace years after creation and they will expose you.
It is most important to do one thing right at a time plus do it the very best you can instead of taking on way too much and not accomplish anything impressive with any of it.
If our products, services and clients we represent are worthy, useful, worthwhile and valuable then everyone should expect us to tell them all about them. There is nothing shady about telling people about something that will make their lives easier, more enjoyable or put money in their pockets! Good marketing is good business. Good business is good for everyone!
There is nothing immoral about pitching goods and service, unless you are telling lies! Anyone can lie; not everyone can market, promote, pitch and persuade well!
Long term promotional value requires honest sales technique anything less risks long term negative notoriety! Bad publicity can stay around on the web for a long time and get passed around doing loads of company, as well as personal image damage.
There are tons of types of web content you can post to promote a company, brand or service; photos, creative text, videos, audio, drawings, data graphs, graphics… I feel you should try to get great at any one or two but use all the others too. Become amazing and known for being a super creative writer, or an imaginative photog or a brilliant videographer then build the rest of your internet empire around what your expertise is. Let the other aspects of web content creating round out and support your proffered showcase expertise.
To stand out among all the noise online you need to be wonderful at something; the go to person for which people seek you out or follow you to experience!
Just remember the genius of the web and the attraction to web content is in the mass diversity of the available content itself. Your success will depend not only on publishing great stuff but also on how well you learn how to display and present your master pieces of content.
Web Content
always looks better when it is presented in context. Just like a great oil painting relies on the beauty and appropriateness of the frame that surrounds the canvas and a well written play is better appreciated due to the ambiance of the stage it is performed on as well as the props, scenery, costume, makeup and strength of the actors and directing.
As with all great works, to thrive, web content relies too on its relationship with everything else around it, how it fits in and interacts with whatever else is influencing its audience all contributes to the success or failure. Thus a big piece of the puzzle to successful web content marketing has to do with being gifted at determining when to publish what and knowing what should accompany what you publish when you publish…TIMING!
The icing on the cake is being able to announce your new efforts once you publish them and that requires hard work and organization. You need to be set up in a lot of places so you can start planting the seed early. Think of your content as a new Hollywood movie that will hit the theaters a few months from now. Hollywood producers begin telling us all about a movie, way before its debut date! No matter how big the stars of a movie are no one expects the movie to sell and promote its own tickets.
So, Content Marketing Gurus now would be a great time to check out the rest of the Guru Marketing Tips Website. Browse around and find something to conquer first. Everything you need is here…The keys to your Cyberspace Guru Empire!
*I do recommend you first read, at least the 15% FREE Sample pages of
GURU MARKETING TIPS
– The Online Offline Web Champion - by Stu
Leventhal
The tutorials on this GURU MARKETING TIPS WEBSITE… reinforce the learning of the popular business concept and marketing book. With all this advice, you too will soon be on your way to becoming an Online Offline Web Champion!
Good Luck, Guru Marketers…You are the Future of Business and the Hope of Mankind! The internet is here; there is no going back to the old ways of conducting business!
P.S. Have any questions or want to add something, leave me a comment below.