THE GURU PROMOTIONAL ONLINE WEB CONTENT TESTING CULTURE...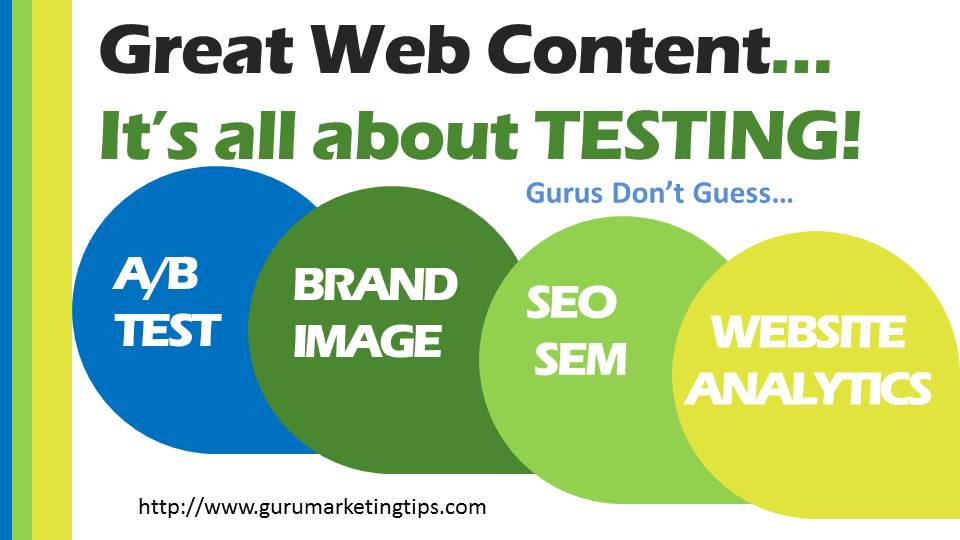 GURU A/B WEB CONTENT TESTING EXPOSED
By
Stu Leventhal
- Guru Marketing Tips
Spamming on the internet should be avoided at all times!
Yes I get that you wish to promote your products and company but that is why only smart, innovative and crafty web marketers have much success pitching
online
.
Remember heads on selling is frowned upon in many places on the web so promoting a brand or company products in cyberspace takes real tact and thorough thought. Not being able to promote by using an outright commercial or ad makes marketing online tougher than
offline
. Cloaking one's true motives for publishing stuff on the web, can be difficult and challenging, when it really is just more sales that you are after.
Underestimating your customers and audiences online is the biggest mistake marketers make. People see right through sales pitches that are disguised, dressed up or decorated. The key online is to build a specialized audience before you start
promoting
to them. You have to gather the troops before you can inspire them to join your cause. No one becomes a part of anything or gives their loyalty to someone or some organization unless they are proud to be associated with it.
Small Businesses
especially but big corporations too, have to be trustworthy and present a pristine, unimpeachable, admirable persona for clients and customers to go out of their way to hail their name and champion their agendas. Everything and anything you do online or offline cannot and must not jeopardize or let down the loyal followers and believers your company has already built up, especially while you are only just beginning to build. Marketing honestly and with
internet marketing dignity
is of the upmost importance when you want your efforts to be cumulative; one action building and adding to the momentum of the last!
Attracting the attention of a few thousand
social media
browsers does not guarantee they are going to buy anything from you! Whatever your topic of specialty is, there are probably thousands, possibly millions, of people competing for your same audience's attention! Yes, people browse around and some click on links and content haphazardly but most are not fooled very often and no one is tricked more than once. We are all naturally suspicious of companies' verbatim and rhetoric!
The only way to build and keep a loyal, returning fan base is to give them stuff that they like and crave but they cannot get anywhere else! Remember that things of quality as well as rarity are the most addictive things there are.
Once a person experiences something of extreme value, lesser worthy stuff no longer has the same attraction or appeal to them. Once we have greatness we do not ever go back to mediocrity unless we are forced because we cannot find the quality we have come to expect and love.
The way
great content
is developed is by experimentation then compiling result data then acting on the data.
You have to take a chance if you are trying to impress people! After you try something out you need to analyze how it was received and how well it performed for you.
Regardless of whether your newly published web content does good or bad you should always plan to relook it over and attempt to improve it based on the data you analyze pertaining to how your audience reacted to it.
You need to determine why bad performing web content went wrong so you do not keep repeating the same mistakes. You also need to know why good web content was received so well by your audience so if possible you can create more good content in the future.
The only way to be sure is to scientifically set up situations with control groups where you test different aspects of your content marketing pieces to see what turns your audiences off and what they respond positive towards. You need to test different themes, tones and moods as well as different visual stimulus. Often just changing a text font will make a big difference but you won't know if you do not test.
There are lots of companies who compile data on all kinds of web audience types and for different industries but
guru marketers
are not interested in other people's data or results. We need to find out how our audiences react and what they want from us and that means we must do our own tests and come to our own conclusions!
The good news is that the internet is ideal for fast testing and quick data compiling. Since you own or manage your
web realty
that means that you can make alterations to your web content to test it as much as you wish and you can keep improving it then improving it more for as long as you wish.
The idea is to keep working on your online content until it becomes super content!
Now think of an offline advertisement such as a magazine ad. Do you see how much more difficult it would be to test then retest the magazine ad and how much more costly? You would have to design different ads and pay for them all to run in magazines. It could be weeks before you got your data results back.
With online testing you can have instant results, tweak your work then test it immediately again!
Knowing that it is rare to create great performing content on the first try and thus always planning to test and improve all your web content is the way Web Gurus hammer out great performing websites, blogs as well as social media accounts. Testing then sprucing up your content is the key to creating great content online and offline!
Guru Promoters use online test campaigns to inexpensively find out what will work offline as well as online!
*Learn more read:
GURU MARKETING TIPS
by Stu
Leventhal