GURU ONLINE ROI - RETURN ON INVESTMENT!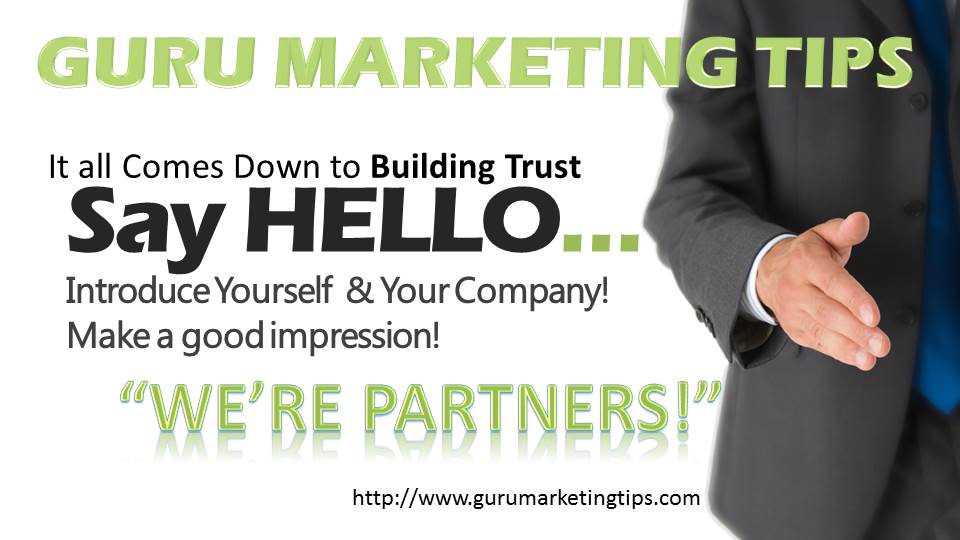 GURU PROFIT BUILDING
By
Stu Leventhal
- Guru Marketing Tips
Since setting up web property is so cheap to do and can be done by one's self, many amateur, business minded people have attempted all kinds of cyber business ideas. Many online money makers work fulltime day jobs
offline
and run their web businesses at night and on the weekends. Cyberspace is full of entrepreneurs hustling to make a buck!
How you conduct your
online
business is entirely in your hands. You can take your time building a web empire or dive in and go like hell. Just know that it will take real effort to get something of value going online! Web commerce is not a lazy person's game!
Once you publish content on the net, the
web content
stays up and is viewable for as long as you wish to leave it up, possibly for years! You should take full advantage of this longevity factor. This means that you can start building
web real estate
property and concentrate on growing your audience, fan base and fame then worry about figuring out how to make money off of your accomplishments later.
First build your web empire then monetize it!
Remember you really have very little expenses to worry about so you are not under any pressure to make a fortune right away. What does not work immediately to make you a fortune can always be improved and optimized to earn its keep at a later date.
Many unorthodox business models have been attempted online simply because they could be attempted and because not much money was being risked to test out an idea.
On the flip side, if you try to open an offline company you are immediately hit with expenses; rent, insurance, utilities… Yes, you need to have funding to experiment in business offline. You also have to create results like making a profit in a reasonable amount of time, usually fast or you will go broke.
With Online Business and Web Marketing, you have the luxury of being able to take your time to build something special. Every publication posted online can be tested, tweaked and re-published again and again until it is just right.
Even offline marketing and offline promoting are costly and rarely 'do it yourself'. When you purchase an advertisement offline, such as a newspaper ad, the ad is only active and working for you until the next newspaper edition comes out. The same lack of longevity goes for a radio ad or a TV commercial. Once a commercial runs for the amount of times you have paid for it to be played, it does not get shown or heard any more. On the other hand, your online posts and publications are findable and can keep working for you for years to come, as long as you manage them properly.
Most online marketers and business people do not take full advantage of the fact that their published efforts are live for months and years like
web gurus
do! Many people feel that since there was not a big investment of money put into publishing a nonproductive online effort then nothing is lost by just forgetting all about a loser attempt and moving on.
The real beauty is that when your online work is successful it can go on working for you, just about indefinitely without causing you any additional expenses. Once you have a winner, all you need to do is keep finding ways to notify new groups of people about your prize content and keep sending them there and you will keep making more and more money from it.
Even when your content does not work well for you, a wise GURU Marketer can figure out a way to optimize the work he or she has already done at a later time perhaps by implementing some minor improvements or by funneling a large amount of people to your poor performer through linking it to a high performer and giving an incentive for people to follow the link.
Remember there is no rush; you are not paying any rent. You have time to improve things and to come up with an idea or a plan to test. With persistency you will improve your bad web content's productiveness. Often all that is needed to turn around bad web real estate is to come up with a better title or to optimize your poor performing web content for a less competitive keyword phrase. Sometimes just adding a photo or graphic will make your web content more popular.
*There are a number of ways to reactivate web content, web publications and
blog posts
that slow down.
You can retool the content that you deem needs a quick facelift or easily aim a new traffic source at your dying content to give it a new boost. Just by linking up to your 'poor result' web content from a new source you can create a whole new audience for the work that you have already completed months or years ago.
Small Business Web Tip - You can simply convert a text article into an audio blog post to get more mileage out of the same work! Once it is in the audio state share links to the new content on all your social media accounts for a quick SEO burst!
Read
GURU MARKETING TIPS
- The Online Offline Web Champion by
Stu Leventhal
*Take advantage of years of hands on business management experience and learn practical, time tested biz wisdom that works for any industry! You owe it to yourself and to your e-business ideas to be able to take full advantage of modern technology for conducting e-commerce and making e-profit!