Funny Business 101…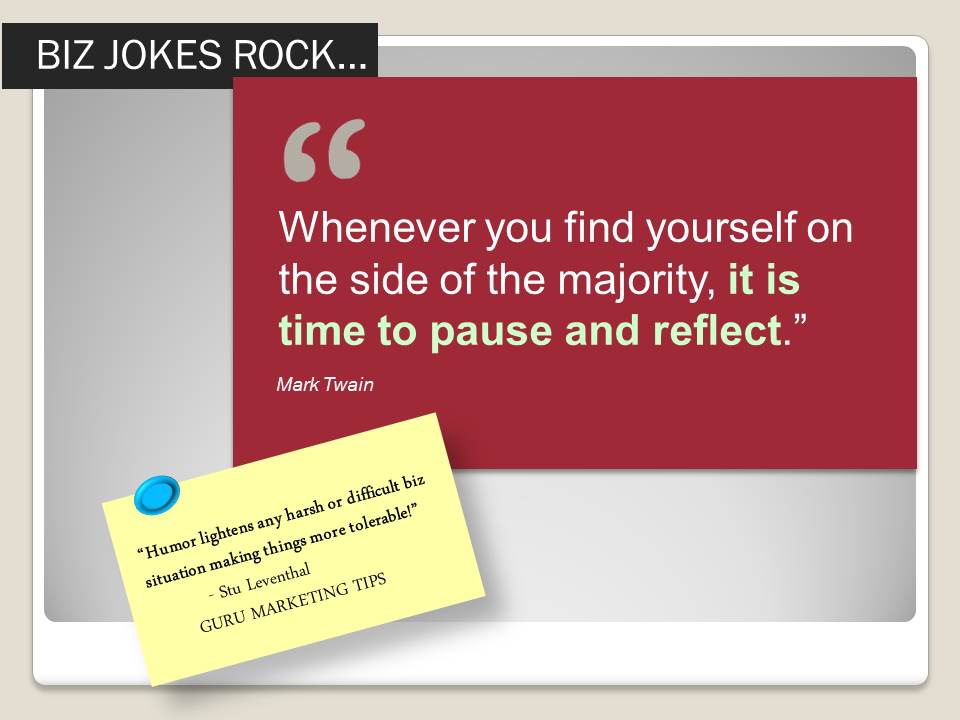 Lightening Up The Business Environment With Company Humor
By
Stu Leventhal
– Guru Marketing Tips
Job jokes, business humor, online funny web content, offline company jokes, funny ads, commercials that make us laugh, humorous
copywriting
… Being funny and knowing how to make people laugh along with you is one of the keys to business
leadership
.
When things get rough in the work or market places someone needs to be able to lighten the stress. A great business leader can make people laugh and feel better about their circumstances. Yes, laughter is the best medicine but you have to be able to walk the walk in the business environment not just talk the talk! So, before you start slinging the slap stick at the work place or in the board room, make sure your business acumen is top notch!
A business sense of humor is one of the most important pieces of the biz puzzle that all great marketers, biz owners, corporate execs and
small business
managers must acquire to rise to the top of their fields. Without a sense of humor it will be a long, hard, dreary and lonely climb up the corporate ladder!
REFERENCES:
Learn how to craft business jokes:
http://anewtale.com/humor.html
Learn business writing and corporate copywriting:
http://anewtale.com/business.html
*Learn everything you need to know about marketing, biz management and
Promoting
by reading the best biz book available:
GURU MARKETING TIPS
by
Stu Leventhal
– Become an
Online Guru &
Offline
Web Champion!