BUSINESS AND HUMOR GOES HAND IN HAND...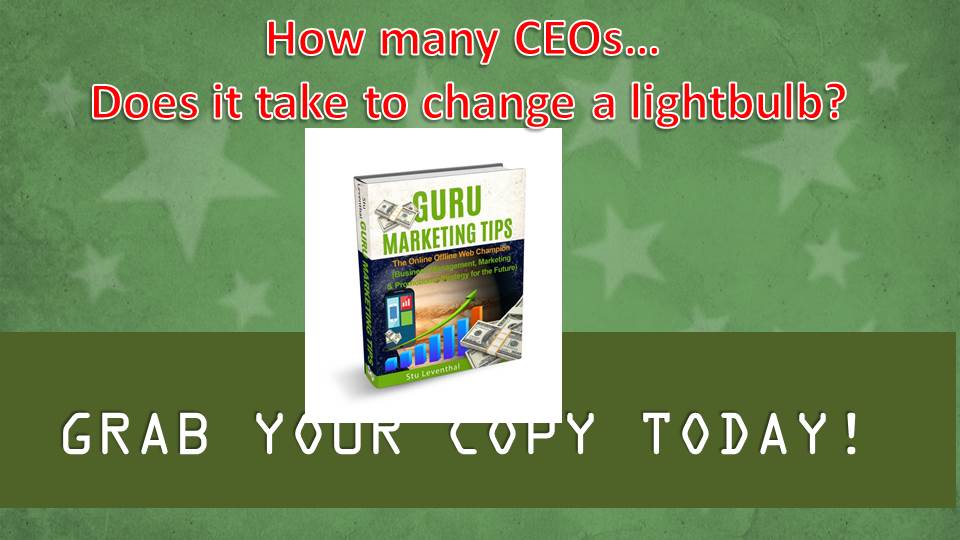 HUMOR IS IMPORTANT IN BOTH OUR BUSINESS AND HOME LIVES...
BY STU LEVENTHAL - GURU MARKETING TIPS

IN OUR PERSONAL LIVES AS WELL AS OUR PROFESSIONAL LIVES HUMOR AND BEING ABLE TO LAUGH HAS TO BE A PART OF OUR SUCCESS RECIPE!
JOKES, HAVING FUN, ENJOYING LIFE IS WHY WE WORK!

WE WANT TO MAKE MONEY AND BE SUCCESSFUL SO WE CAN HAVE THE FREEDOM TO DO THE THINGS WE LIKE DOING AND TO SPEND QUALITY TIME WITH THOSE WE LOVE.

YES, BUSINESS SUCCESS REQUIRES SERIOUS THOUGHT AND COMMITMENT TOO. BUT, THE PROS KNOW THAT THEY HAVE TO HAVE FUN TOO OR THEY WILL BURN THEMSELVES OUT!

A PERSON IN A HIGH STRESS JOB SIMPLY CANNOT KEEP UP THE PACE WITHOUT TAKING SOME TIME TO REJUVENATE. A GOOD SENSE OF HUMOR ON OR OFF THE JOB ALLOWS ONE TO BLOW OFF STEAM!

IF YOU WISH TO BE A GREAT LEADER, YOU NEED PEOPLE TO FEEL COMFORTABLE AROUND YOU. HUMOR SHOWS CONFIDENCE, STYLE AND GRACE...ESPECIALLY WHEN UNDER PRESSURE.

HAVING A GOOD SENSE OF HUMOR IS ONE OF THE TOP FEATURES EVERY GREAT BIZ LEADER HAS PLENTY OF!

AS FAR AS FOR GETTING PEOPLE'S ATTENTION AND HOLDING THAT ATTENTION...THERE IS NO BETTER MEANS THAN WITH HUMOR!

GREAT HUMOROUS MOMENTS ARE MEMORABLE!

IN BUSINESS, HUMOR IS USED IN PROMOTION AND ADVERTISING CAMPAIGNS ALL THE TIME BECAUSE FUNNY STUFF IS POWERFUL!

WHEN BUSINESS LEADERS GIVE A SPEECH THEY USE HUMOR TO MAKE THEIR POINT.

HUMOR BONDS TEAMS TOGETHER! HUMOR DEFUSES HOSTILE SITUATIONS! HUMOR HELPS PEOPLE CARRY-ON!

WHETHER YOU RUN A SMALL BUSINESS OR A LARGE FORTUNE 500 FIRM, DEVELOPING A GOOD SENSE OF HUMOR WILL HELP YOU CRUSH YOUR COMPETITORS AND DO MORE FOR FURTHERING YOUR CAREER THAN CULTIVATING ANY OTHER SKILL!

IN THE BUSINESS ARENA, HUMOR TRULY WORKS LIKE A MAGIC WAND, NOTHING IS BETTER FOR BRAND BUILDING!

FOR POPULAR WEB CONTENT HUMOR CANNOT BE BEAT!

HUMOR GETS SHARED MORE THAN ANY THING ELSE ON SOCIAL MEDIA AND THROUGH BLOGGING THAN ANYTHING ELSE IN CYBERSPACE!

IF YOU WANT TO BUILD PROFIT, HUMOR IS THE OFTEN THE KEY!

OF COURSE YOU CANNOT JUST BE FUNNY; IT ALSO HELPS FOR YOU TO KNOW WHAT YOU ARE DOING MANAGERIAL WISE AND MARKETING WISE!

GURU MARKETING TIPS BY STU LEVENTHAL WILL HELP YOU RUN ANY COMPANY OR BUSINESS ENDEAVOR BETTER!

GIVE YOURSELF THE GURU BIZ ADVANTAGE AND READ THE BEST BUSINESS ADVICE BOOK WRITTEN FOR THE NOW BIZ GENERATION...GURU MARKETING TIPS!

GURU MARKETING TIPS BY STU LEVENTHAL IS LIKE FINALLY FITTING THE LAST PIECES OF A VERY COMPLICATED BUSINESS PUZZLE INTO PLACE!

*REMEMBER WHETHER YOU CONDUCT E-COMMERCE OR RUN AN OFFLINE COMPANY, KEEP SMILING GURU ENTREPRENEURS...ALL THE WAY TO THE BANK!