The E-Entrepreneurial E-Spirit...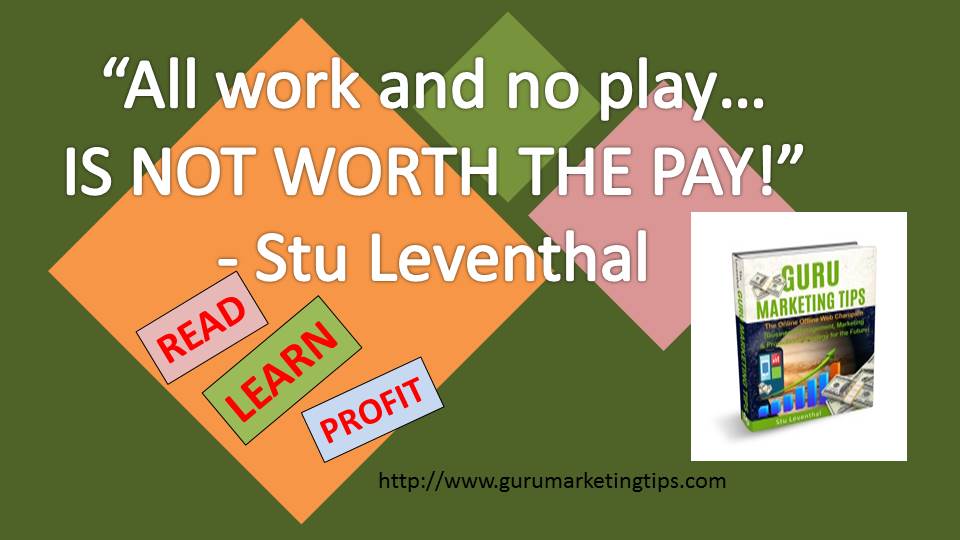 Cyberspace E-Guru Entrepreneurs…

Guru E-Innovation for E-Profit
By
Stu Leventhal
– Guru Marketing Tips
If you are imaginative and inventive then you have business ideas. Everyone wants to be rich! I bet you would love to take one of your business inventions to market!

All of us understand the basics of offline business because we have been shopping in neighborhood stores and frequenting restaurants and buying stuff at department stores our whole lives. But making money online is mysterious!

It seems like everyone is talking about how the internet and computer technology has made it so easy to start an online business. But, if you are like most people with the entrepreneurial e-spirit, you are probably still pretty confused about how to actually go about cashing in.


Oh, you have a decent cell phone and a laptop. You've played some cyber e-games, probably do some daily text messaging to your friends and family and even play around some on
social media
sites like Facebook and Twitter.
Everyone surfs YouTube...but starting an e-business or online e-company is a whole new ball game!
Well congratulations! You are on the right website for discovering how to make money, more money and even more money...online with
e-commerce
or offline!
Just know that opening up your own business or even running or managing a small business successfully for someone else
will be one of the hardest things you ever attempt to undertake.
When you sell something, people want to get away with giving you as little money as possible for your product or service but do not be mad at them; it is only human nature
!

When we buy we want to buy as cheaply as possible. We show up at the auction wearing ripped torn clothes so people will think our funds are limited. But when we sell we want to sell for as much as we can get!

That's good business! That's playing the business game!

When you think of a better, faster or more efficient way of doing something you want to get paid before you'll share your discovery, invention or idea with anyone.

You realize you have something others want and possibly need and they are wiling to pay you to get their hands on it.

There are lots of ways to make a profit. There are many types of business models and biz strategies and money making methods one can base their company around. There are also a lot of money sucking pitfalls you can avoid if you know what to look out for.

Do not be fooled into thinking starting, promoting and running a profitable business is easy! It is tough!

There are unscrupulous competitors gunning for you!

GURU MARKETING TIPS by Stu Leventhal is the best business play book of our cyber age.

*Whatever your business situation is, you will save yourself a lot of stress, headaches, aggravation and loads of extra hours in the office by just reading a few chapters of this unique, informative, business wisdom...

GURU MARKETING TIPS - The Online Offline Web Champion by Business Coach, Stu Leventhal is now available in all e-book formats!

Shouldn't you be putting years of practical, expert, hands-on, business experience, time tested biz acumen and management knowledge to work in your company or for your employer or for enhancing your career or for becoming a freelancer or for starting your own company...

Find out why more and more, new and experienced, business pros are overheard saying, "Reading GURU MARKETING TIPS was the best career move I've ever made!" - It is better than any college biz courses!

*Don't wait until you are in a job interview and the recruiter asks if you've read GURU MARKETING TIPS!

If you are serious about business... Order your affordable e-copy of the best business handbook in years, GURU MARKETING TIPS by Stu Leventhal! Start Reading and Profiting Today!