GURU COMPANY GROWTH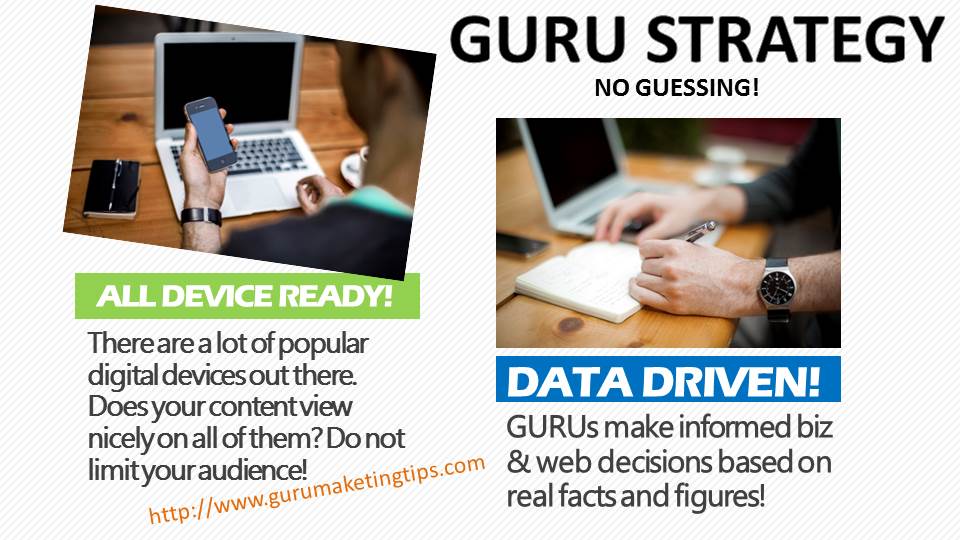 GURU BIZ PROFIT BUILDING...
A GURU BIZ STATE OF MIND =s A GURU PROFITABLE BIZ STATE OF BEING!
By
Stu Leventhal
- Guru Marketing Tips
The longevity factor of online
content
should be reason enough to always give one's best effort to creating online publishing and to always post your best most honorable stuff. Always keep in mind that once published, your online web content will be around for a while and it is up to you whether or not you keep it working for you by managing it properly.
For some odd reason the general consensus is the opposite of the above. Most reserve their very best marketing efforts for
offline
business and contribute their subpar and fast created and often rushed work and even harebrained schemes to be used for their online
web real estate
.
The hardest thing for GURU Marketers and GURU Business Pros to learn, fully fathom and then adopt as their mantra is that everything you or your company does online or offline, internally or externally, affects the company or persona of what you are
promoting
. Yes, every business move or decision that you make has the potential of being great GURU MARKETING! But also, your offline and
online reputations
are always at stake when you try out any new business ideas!
If you learn anything, know that there is no sacrificial business or marketing efforts! When you screw things up you have to fix your mistakes and fix them fast or whatever it is, it will have a negative biz affect!
Regardless of how much or little money you sunk into a business or marketing or promotional project or idea you cannot publish things that will be representing your company for a long time that are a risk of becoming an embarrassment to the company or towards yourself. Always market with the utmost of business
internet marketing dignity
and integrity especially online!
I am not sure who began the myth that just because a lot of online marketing is free to do that one can practice it however they feel like it with no repercussions. When online efforts like
blogging
or
social media
are done badly they can harm and go on harming for a long time! There are big risks to not taking one's online personas seriously!
In our modern digital age, online reputations are part of every company and every business venture or biz project regardless of whether or not any business itself is conducted online or if money changes hands digitally. If you are not managing your online reputation then someone else is in control of how you are being perceived by online audiences and most likely it is your competitors!
Business pros in every industry can no longer ignore the influence of online perceptions…
Find out how to dominate your market place online and offline by reading:
GURU MARKETING TIPS
- Genius Business Discussion by Entrepreneur, Business Consultant, Mentor,
Stu Leventhal

*You too can be an Online Offline Web Champion!