CREATING GURU CONTENT MARKETING THAT GOES ON WORKING...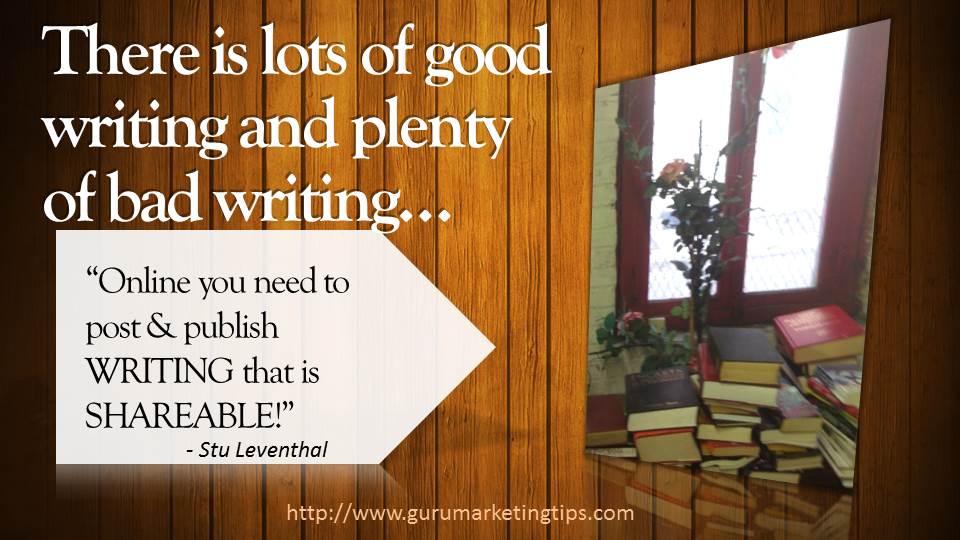 Using the Web's Reach to Make Your Mark and then Some!
*SOME WEB PUBLISHINGS GET SHARED AND PASSED AROUND A LOT ONLINE, MOST DO NOT…
By
Stu Leventhal
- Guru Marketing Tips
There is a lot of stuff to read on the web. There are plenty of places to visit, all full of enticing
web content
.
We first search and browse until something catches our eye. That means the most important thing a web publisher or
online marketer
needs to concentrate on creating is posting interesting photos and striking graphic images and great alluring titles! You have to first slow down the skimmers then capture their attentions or no matter how great a scribe you are no one will ever get to read your words of wit.
As we start to read we are evaluating. Our finger is still on the mouse or curser ready to click away instantly if anything annoys us so the first few sentences and phrases must disarm us, charm us, mesmerize, enchant, wet our appetites and make us hungry for more!
Heck, this is the same challenge that authors and writers have had from the beginning of penmanship thousands of years ago. Create a great title and hook the reader with the first few lines. The only difference is that now the reader has at their disposal tons of options with which to immediately replace your writing, if they are unhappy in even the least bit.
Online readers have little patience and lots of stuff to choose from and no one feels guilty about clicking away after a split second from work that took an author days or months to create.
What we are looking for is something that not only interests us but that is shareable too. Why? Because we all have limited time and we all are heavily involved in many ongoing activities online. We are not reading and searching just for us; we search for our online social communities and cyber friends and the groups we belong to. We want to read and learn stuff too but that is personal research which is not what most of us are up to most of the time when we go online.
More often than not we are looking for things we can share with our internet communities because we want to contribute to discussions, we want to fit in, we want to be liked whether we are online or offline. We wish to grow our followings and that takes active participation.
If you want your online work and creative online endeavors to be passed around the net and talked about in your industry or field of expertise then you have to set up the stuff you post and publish so that it is easy to share. Design your publications so people will be proud to share them and proud to link to then.
Can you see how and why effective online writing would be more difficult to accomplish and produce than writing for
offline
publication? Remember that there is just as much, if not more competition vying for your online audience as there is competing for one's offline audience. So, why is it that people believe that online publishing and posting can be less quality than offline magazine articles and newspaper articles and paper books and traditional publishing manuals, guide books and handbooks?
People stop browsing to read and take a closer look at the most intriguing titles and dazzling images.
Know that you cannot pull enough people to your own publications for it to matter much all on your own. You need others to share! That is the key
guru web concept
to embrace when designing your internet marketing strategies and campaigns.
No matter how big your following is or gets, your aim online is still to publish stuff that people will want to
promote
and share with their followings and friends. Post stuff others can use!
Whenever you write;
copywriting
or
creative writing
, do it with the intention of writing something that your fan base can share with their cyber families, friends and followers who in turn can share it with their groups and so on...
Great content online is far and few between and it is also in high demand. That means, if you are capable of producing great content you can own your piece of the internet pie. But what people are looking for is more than just great reads. They are actively and constantly seeking new stuff that they can re-post, link to, discuss, debate, critique.
The average person, small business or big business can not produce all the content they need to participate effectively or influentially online all by them self.
Learn how to create content that is very shareable and then when presenting it to even just a small audience, it will still be enough to start your content spreading all over cyberspace. Let the world promote for you! You'd be surprised at how little you really have to publish to become known all over the globe!
*Read
GURU MARKETING TIPS
by
Stu Leventhal
and learn how to take advantage of the most effective marketing opportunities in history!
*Want to write better, clearer, more persuasively, convincingly, entertainingly, funny or informative? Read
A NEW TALE
a Creative Writing Tutorial by
Stu Leventhal