Using Business Jokes and Biz Humor for Sales and Profit!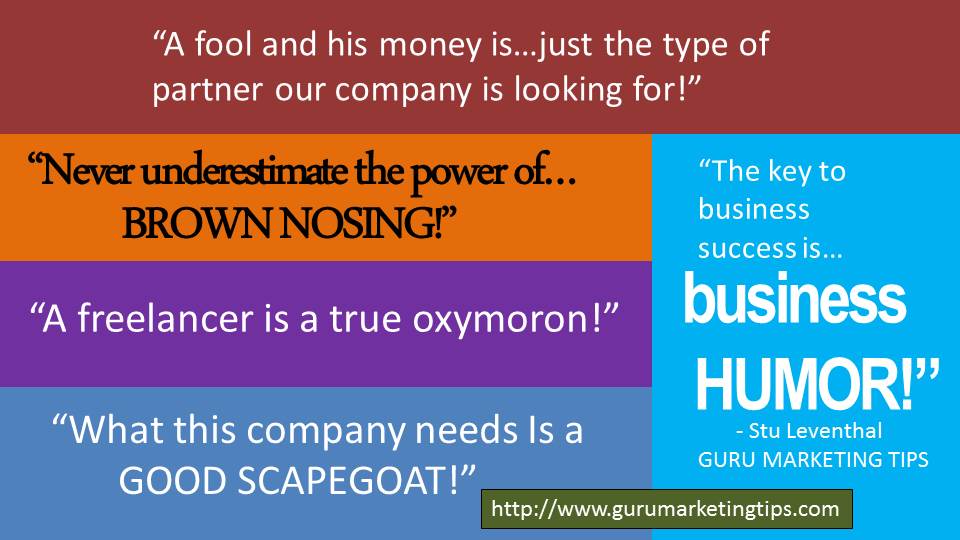 BUSINESS JOKES ARE POWERFUL PROMOTIONAL TOOLS
By
Stu Leventhal
- Guru Marketing Tips
Writing Business humor is tough but pays high dividends!
There is nothing that draws more attention, online
traffic
or
offline
notoriety than funny stuff. In the
small business
arenas and corporate worlds being funny is invaluable! Popular Funny Marketers and
promotors
who know how to get a laugh can charge whatever they want.
Web Guru Marketers
have been trying to take advantage of the viral possibilities of funny
web content
for publicity purposes on
blogs
and in
social media
for years. But humor for business purposes is tricky!
Always remember, business jokes have to be approached in a very ethical manor. Never sacrifice your integrity, cheapen your name and standing, risk your
Internet marketing dignity
or soil your company
brand name
by hurting anyone's feelings! Your company's
reputation management
is of highest importance.
On the job humor, whether in the board room or on the factory floor is regulated in most work places by job harassment laws! You can be fined and fired for telling a hurtful joke! Careers have been ended due to a CEOs poor taste in humor.
Business humor is funny, powerful but also serious stuff.
Business humor
requires tact!
Especially online, your post of just one bad joke that is in poor taste can be shared fast and do a lot of company damage before anyone catches the mistake. Once an offending joke is out there it is hard to retract and silence.
Business humor is unbeatable for teaching, for promoting, for gaining support for one's ideas, for
sales building
,
lead building
and attracting new customers and even for recruiting new employees… But, you must be careful to keep the jokes professional and always clean and tasteful!
REFERENCES:
You can learn more about writing jokes here:
http://anewtale.com/humor.html
Learn more about business writing here:
http://anewtale.com/business.html
*Learn more about marketing ethically and fantastically Promoting by reading:
GURU MARKETING TIPS
by
Stu Leventhal
– Become an Online Offline Web Champion!