REAL ESTATE AGENT'S CAREER TRAINING EDUCATION CENTER


TRAINING FOR LICENSED REALTORS!

One of the best ways to compete locally with established, deep pocket, seasoned Pro Realtors and all the nationally branded companies is to be internet suave.
Get Your Website Up ~ Launch Your Blog
Yes, you too can break into the lucrative, property buying and selling business fast, dominating your targeted neighborhoods by leveraging technology innovatively.

We Teach You how to Set up Facebook...
WE SUPPLY YOUR FACEBOOK POSTS!

Your New Real Estate Agents 90 Day Game Plan supplies you with pro written PLR website content, blog posts and social media posts that you can copy paste and publish all over cyberspace to capture the attention of new clients!
DOMINATE YOUR LOCAL TWITTER SPHERE!
You can certainly claim your piece of the local realty market pie by overwhelming the old school masters digitally and working your community using your newly learned online savvy!
WE SUPPLY YOUR TWEETS!
Yes, you know tech gives you the edge that enables you to partake in the many vast spoils of Real Estate transactions. Those who are willing to learn how, can make a fortune from all the property that is changing hands daily!
Learn G+, Pinterest, LINKEDIN!
But the problems with getting your internet presence established can prove difficult, costly and takes up a lot of a new Realty Agent's limited time.
Yes We Write Your G+ Posts for You
This Real Estate Agent Business Training Handbook Plus... can transform you from a New Realtor into a PRO AGENCY SUPERSTAR fast!

You are getting a complete, comprehensive Realtor's tested 1st 90 Days Complete Business Game Plan. Your biz strategy is ready to start immediately. Just read your daily lesson then follow your daily planner's suggestions on your road map to success.


REALTY AGENT TRAINING BOOKS
INSIDE THE MIND OF A TOP
REAL ESTATE AGENT...

NOW! $24.97
The Real Estate Agent's Career
SUCCESS BLUEPRINT
by Gerri Leventhal


Your 90 day game plan comes with website design advice and tips including actual 'done for you' website content; three months of articles, photos and infographics.

Pro-written copy, is already created for you. You simply load the buzz worthy text onto your website's pages and blog then publish to thrill your website's visitors and impress the top search engines like Yahoo and Google.

Social Media plans with easy instructions are also included in your daily play book with social posting ideas and often what to post is actually supplied for you.

Yes, you get professionally written tweets, Facebook posts, G Plus posts, blog posts, even emails ready to be sent.

How to gain Web traffic to your website, blog and social media accounts are all discussed. E-list building coaching is included along with Realtor Client Prospecting ideas, Lead Generating tips and Brand establishing advice. Blogging tutorials are geared towards helping you attract Local Real Estate Customers and starting interesting, neighborhood relevant, blog conversations that stir your notoriety and assist with your offline networking campaigns throughout your community.

Yes, you get tested offline marketing methods and business building strategies and advice as well!

Most importantly you get more than just theory and handbooks and talk. You will be supplied with the proven marketing tools and expert coaching I've been using to help new Real Estate Agents painlessly break into the Real Estate Industry for years! Plus you get effective, magnetic pro designed web content, written and created by my expert, Real Estate Industry Copywriters. This is done for you content that you can put to work online and offline getting you leads right now!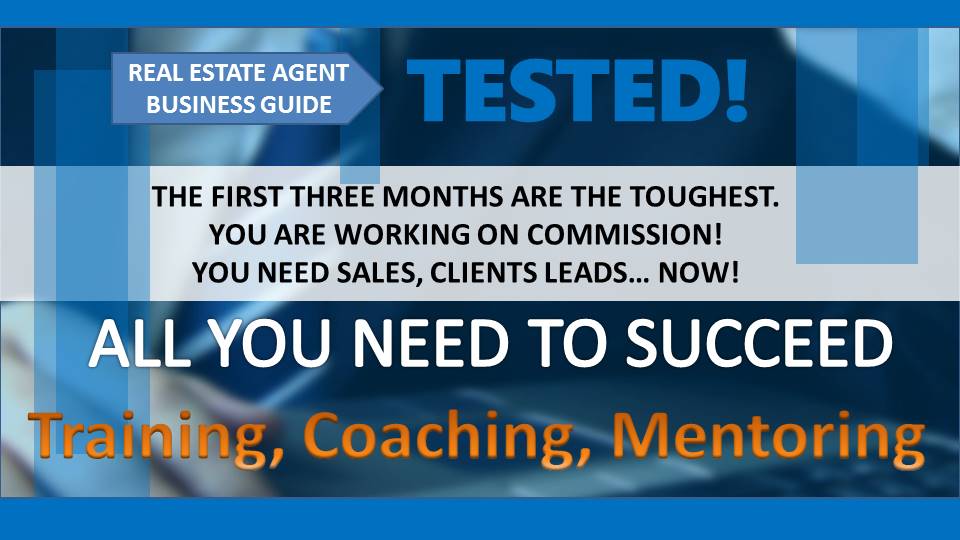 This offer instantly gives you access to numerous, proven lead magnets for building your new Realty Business fast. Easily place these online, apply the traffic attracting advice then start profiting from building your own opt/in e-mail lists filled with potential Local Realty Buyer and Seller Clients.

Your important first 3 months biz strategy comes with daily lessons and suggested tasks with instructions that are easy to understand. Your path to Realty success is designed for you by experienced realtors who know how to build up a Realty Business.

Your step by step instruction guides advise you on website set up, blog creation and management, plus getting started with all the major social media accounts. Your posts are pre-written and created for you by experts. This is the way to get your online presence up and working for you fast with us doing all the heavy work!

The priority is to get you set up and focused on what works...Best Practices and sound advice from experienced successful Realtors.

Your Real Estate education continues throughout these all important, 1st 90 days of your Real Estate Career and your Real Estate Business gets a well needed jump start! Just listen to what Gerri's students say…

"GERRI LEVENTHAL'S NEW REAL ESTATE AGENT'S STARTER PACKAGE gave me the direction, focus, wisdom, guidance and confidence I needed for starting my new Career in Real Estate."

"I got my website up and my blog going. Now and I Tweet and have a huge Facebook following and engage on LinkedIn and use Pinterest… Clients call me every day!"

"The best part is my first blog posts, social media posts and all my website content were all done for me. For thirteen weeks, all I had to do is copy and paste when my daily planner said it was time to publish something. This saved me a lot of time and advertising money that I could dedicate to other areas of building my business!"

Gerri Leventhal has been selling and teaching her "NEW REAL ESTATE AGENT'S STARTER PACKAGE" live coaching from the stage and in the classroom for $7997 and it is currently closed and no longer available to the general public. But Gerri is sharing her complete how-to jump start a real estate career method here digitally for a limited time thru this course... at a super discounted price!

If you don't know Gerri Leventhal, she's been a Northern New Jersey Realtor for over twenty years. North New Jersey is the toughest, most competitive Real Estate Arena in the world, the New York City Suburbs! Gerri has her broker's license and has been helping and mentoring new agents get started by taking them under her wing for years. Gerri shows new, understandably confused, Rookie and Seasoned Agents how to use innovative, Internet Marketing skills to build huge audiences of over 250k subscribers online quickly.

"Gerri's large following has helped many new realtor careers sprout to fortune and fame."

"This woman is the real deal and one of the few realtors with real mainstream success working through quite a few good and very bad Realty Markets. Anything you can learn from Gerri about lead and list building, I suggest you jump at the chance to do so."

Get all the details now: