Creative Web Marketing Copy...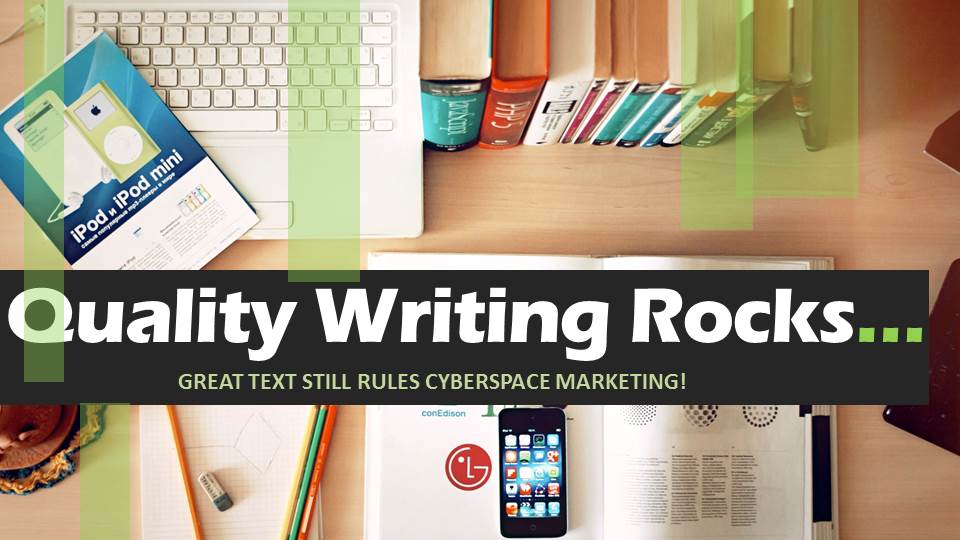 Creating Words that Promote, Sell, Advertise…
GREAT WRITING ABILITY IS THE MOST VALUABLE MARKETING SKILL THERE IS ONLINE, OFFLINE OR ANYWHERE!
By
Stu Leventhal
– Guru Marketing Tips!
Know that writing well rules the web because it is writing that is most valuable
content
when you need to be convincing and persuasive but images attract the eye so just text is not recommended. No matter how great of a web content writer you are, just publishing text is dull online when compared to all else that is available in the digital techie world!
Yes, what you have to say or convey is of most importance but how you say it determines how impactful your messages will be and how far reaching!
Guru Web Marketers are great, creative wordsmiths!
Online efforts can be heard around the world…but their influence and reach depends on how well they are presented!
Ultimately people are looking for real valuable info, hard data, insight or advice. We certainly like to be entertained too but knowledge answers and solutions are still the top reasons people go online when they are spending money. All you have to do is know your audience and give them what they seek and you will be a successful
guru promoter
.
Problem solving is popular and gives people a great reason to share your content and link to your
web realty
.
Mix up the type of content you publish to keep viewers interested.
You need photos so you can capture the photo loving audiences on
social media
platforms that revolve around photo posting like Instagram and
Pinterest
. But you need to shuffle some videos in too because you do not want to miss out on the large YouTube audiences who also present many potential customers and clients.
*Just beware of publishing photos and video for the sole purpose of having a video and photo involved; make sure the images you add to your text mesh well with the messages of your written words!
Web content is anything you post or publish on your web properties throughout cyberspace. All your content;
copywriting
, audio and visual must help each other get their messages across.
There should be a communal message and overall tone that is common to all your published online content throughout the web as well as offline. Nothing you post anywhere should ever distract from your main goal and your mission for being online.
Having a great video on your website that does not further your cause is not only worthless to you but it is confusing to your audience. Understand that anyone can find or even take great photos and make funny videos but it takes a gifted person to curate and create great images, time and again that are all also relevant to one's audience, the company's situation and the web property's theme.
It is one thing to have an artistic eye or to have a gift such as being naturally creative but the magic comes from being master of your art skills and imaginative abilities.
You need to be able to apply your artistic and creative skills to your situations that are at hand. it is a must for an artist to be able to accomplish specific things, for reasons you, the artist dictate. Just being artistic is amateurish. The mark of a pro artist is that they can focus their art, use their art and bend it to their needs, to their purposes.
Study your audiences. Know their likes and dislikes, their peculiarities, their dreams, disappointments and difficulties…
Practice Good SEO,
search engine optimization
. What keywords to optimize your
blog
and website for and what to sell on your web real estate all is answered by knowing your audience as completely as possible.
What type of web real estate property should you build is also answered by knowing your audience, who you are speaking to and where they like to hang out and what influences their decisions! Give the people something they cannot already get somewhere else and they will be appreciative and keep returning for more.
Learn to write well; clearer, funnier, with more emotion and authority and then you will interest people more and crush your cyber competition! Creative writing skills are invaluable for elevating the status of
small business
web realty like; blogs websites and social media accounts. Great Writing skill are also helpful for establishing great personal and company brands and creating a unique voice in one's field and a recognizable image and notable persona.
Knowing your topic inside and out is a start but you have to be able to write with passion about your subjects to pull readers in! Stay in the loop in your industry and field so you can tie the subjects and topics you write about into your audiences' current situations. Always know your readers and viewers needs today, right now, their present desires, today's goals, problems and frustrations…
Discuss the things that are important and on your audiences mind now, even if you do not have a solution yet to offer.
Staying informed, in the loop and cutting edge is how you conduct E-commerce marketing and make a name for yourself and your company online and offline.
Photos and videos are great for visual appeal online so is audio feed so you will need to become an accomplished photog and videographer eventually or pay for others to help you out with your audio and visual aids. Bear in mind that people, even chronic web browsers, need the promise of continual, real substance, insight, advice and wisdom that only great writing provides. Yes we want to be entertained but entertainment alone with no substance gets old quick. Remember your goal is to lure people back again and again, to grow a following.
To grow a tuned in, online audience you need to deliver value constantly. Value requires great creative writing and copywriting skills. Videos and photographs get a lot of visitors but the written word still rules cyberspace when it comes to moving viewers to action. The end goal is converting web browsers into customers who purchase! Getting people to buy takes very well crafted wording!
You have to establish early your trust worthiness and that trust must resonate throughout all your web content that you sign your name or your company's name to.
You cannot spam or your whole image will dissolve like an ice sculpture left out under the blazing noon sun shine.
Eventually you will want to sales pitch something and you will begin to write more persuasively in order to make some e-money. When it comes time to ask e-people, even fans to spend, you need to have already built your solid image of respectability. Your audience should look to you as their mentor, advisor, friend, partner…
Biz Pros and Business Expert want-a-bees, your homework, study assignments are…
*For top business management and marketing discussion plus profit making advice, Read:
GURU MARKETING TIPS
– The Online Offline Web Champion by
Stu Leventhal
*To develop great creative writing skills and persuasive, influential wordsmith technique, Read:
A NEW TALE
– A Creative Writing Tutorial by
Stu Leventhal